I was born in 1976, at the cutoff point of what some people call Generation X. I mention all this because '70s pop culture is supposedly one of Gen-X's pet fascinations, and I caught the tail end of a lot of '70s fads as they were crossing the threshold into the early '80s.
There's one fad I was never aware of until recently: the pizza-parlor-with-a-pipe-organ. Technically, the first such place opened in 1962 (Hayward, California's
Ye Olde Pizza Joynt
), as a renewed interest in the Wurlitzer organs from silent-era movie palaces was taking hold. 1962 also saw the birth of the Santa Clara, California restaurant
Pizza & Pipes
(which, over the years, turned into a successful regional mini-chain with locations in California and Washington State).
In the early '70s, the craze really took off. San Diego had Organ Power Pizza; Portland, Oregon had
Organ Grinder Pizza
; Phoenix had Organ Stop Pizza (in 1975 a
second location
opened in nearby Mesa -- it's this one that's still in business today). One of the last to cash in was
Uncle Milt's
in Vancouver, Washington (1979; Milt finally closed shop in 1999). Perhaps someone in Las Vegas took note, because in 1999, the Fiesta Hotel & Casino cut the ribbon on
Roxy's Pipe Organ Pizzeria
.
It wasn't solely a phenomenon in the western states though. A quick Google search tells me there were organ pizzerias in Texas, Tennessee, Wisconsin, Iowa, Florida, and even one up in Toronto. I couldn't find any information about similar places in the Northeast U.S. (or even the Southeast, Florida excluded). I'm a native New Yorker, and I have no recollection of ever seeing or going to an organ pizzeria in my part of the country. If I'm wrong, I'd love to know. We certainly had Chuck E. Cheese (a similar breed of "family entertainment" restaurant, with a curiously similar mid-'70s Northern California background).
Pictured below: Organ Power and Uncle Milt's.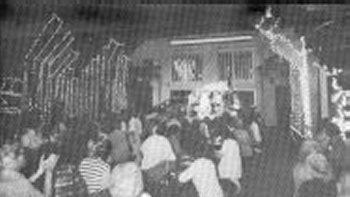 Pictured below: artwork from LPs released by Organ Grinder and Organ Stop.